A huge thanks to The Guards Polo Club who very kindly invited us to be their main charity of the day at the 100th anniversary of The Coronation Cup, between England and Brazil. The event was sponsored by Cartier and attended by HRH Duke of Edinburgh.
Horses Help Heroes supporter Luke Tomlinson led the English team to an 8-7 victory and was awarded the prestigious Cartier Pegasus Award for The Most Valuable Player.
The event attracted 20,000 people and a lap of hour by the carriage was included in the entertainment before the game, which also included salsa dancers and drummers from the
London School of Samba sashayed in front of the Royal Box.
The victorious England took the time to come and see Jacks and the ambulance at the end of play.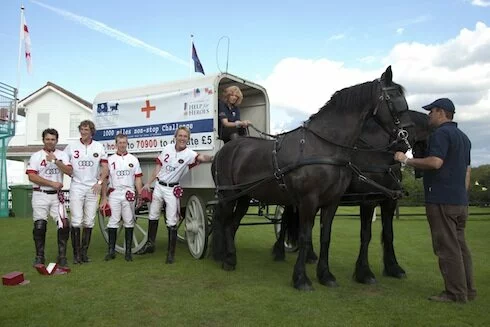 Glorious Goodwood is the next event on the agenda and we have been given the honour of having the 4.15 on Saturday 30 July named after the challenge. The 4.15 E.B.F (Schiaparelli) Best Western Horses Help Heroes Maiden Stakes (Handicap) is a 7 furlong race.
Matt Wilson and Colin Hamilton will be there, with Jacks and the ambulance and will no doubt be grateful for any tips.  If you see the team they would love to see you and we are still collecting for our 4 charities.