Horses Help Heroes, and its chosen charities, were the main beneficiaries of the proceeds from this year's Badminton Ride, held in the glorious park and the farmland of Badminton Park last Sunday.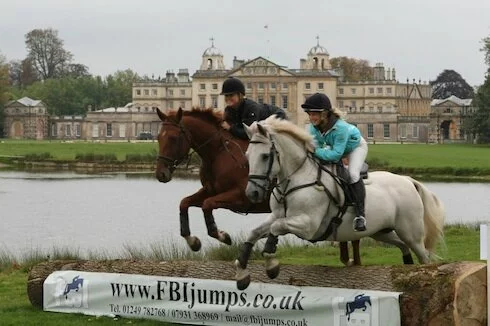 Despite the threatened rain moving rapidly from the west 550 riders and their various steeds turned out for this year's Badminton Ride. A number of the entrants had travelled from as far as Swansea and Pembrokeshire and Nottinghamshire.
His Grace the Duke of Beaufort kindly gave permission for the entrants to complete the 10 mile course with over 30 well built but optional jumps and in front of the famous backdrop of the Badminton House and its lake.
The Badminton Ride was very efficiently organised by Ginny Keen, who was supported as always by her husband David. Thanks Ginny for including Horses Help Heroes in a memorable day, as well as your support during the run up to the challenge. Ginny can be seen in the blue waistcoat reluctantly posing for the photographer in front of our merchandising trailer on the day of the ride.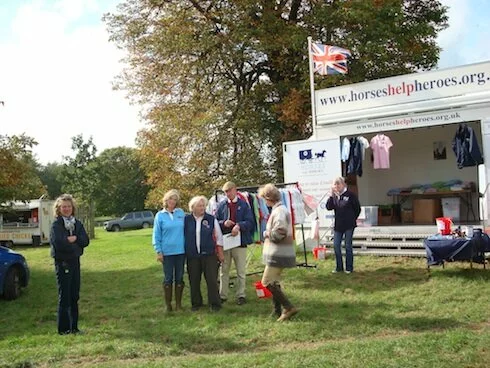 Jacks's sister Lesley Smith again giving up her time to run the merchandising trailor on the day. Thanks Lesley!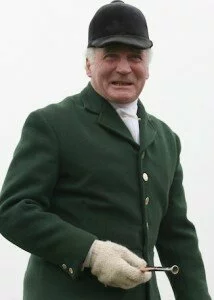 We would also like to thank Captain Ian Farquhar (photo below) who was until recently Master of the Beaufort Hunt, for his and the hunt's support before, during and since the challenge.
Thanks to Adrian Long of TTL Videos (Chippenham) who generously provided the photos of Captain Farquhar and the top photo of two of the entrants jumping a log.